Write about the fate of a past knitting project.
Ghost of Knitting Past: the Citron Cardigan
Somewhere in the late spring months of 2009, I had this idea that a bright bulky sweater would be the perfect item to take to Italy in October. Never mind that all the travel guides suggest packing black, black, and more black... never mind that the average temperature at my destination would be in the 60s °F (and the actual temp turned out to be upper 80s°F, but never mind that, too)... never mind that a bulky sweater takes up way too much space in the one piece of luggage I intended to take... and never mind that I'd also planned to knit two other garments for the trip. NO, I defy your logic, Future Me! NO, I will rationalize like the pro that I am! NO, a citron cardigan it would be, and I set about finding the perfect pattern and yarn.
Found:
bulky cabled cardigan coat pattern,
Josephine
by Melissa Dominguez!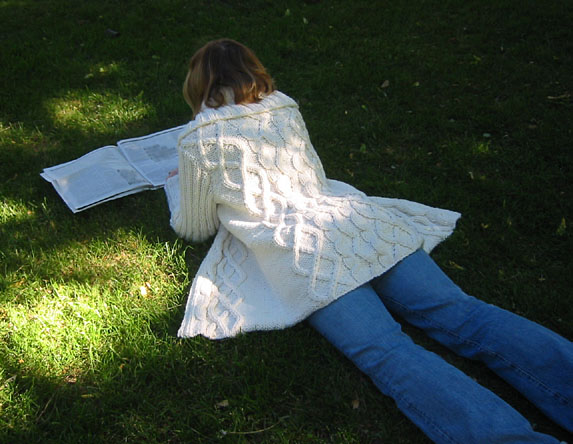 Knitty image: it's bee-ewe-tea-full!
Found:
twelve skeins of
Lion Brand Wool-Ease Thick & Quick
in Lemongrass!
twelve of these bad boys
Found:
Lantern Moon Blonde
circular
and
straight
needles in cah-razy non-U.S. sizes!
7mm and 7.5mm AKA 10

3/4

and 10

7/8
Created:
the back of the sweater! Glorious cables!
Yeah, there are mistakes... so what?
Created:
the right front panel of the sweater! Check out that armhole shaping!
it's not really this color
And then... July hit. For those who have never been to the Mid-Atlantic region of the United States, we have a
humid sub-tropical climate
with the average high temperature peaking at 88°F in the third week of July. Given those conditions, it's a wonder I got as far on the left front panel as I did...
That's, like, two inches.
And there it sits, in pieces, waiting for me to pick it back up. It's been very patient.
patient and stylish, thankyouverymuch
I still really like the color.